So fresh and so clean
Experience a multitude of benefits designed to cater to your oral health needs. Our mouthwash helps prevent plaque build-up, safeguarding your teeth against cavities. It fights gum disease, promoting healthy gums for a confident smile. With its powerful formula, it effectively kills bad breath, leaving you feeling refreshed and confident. Plus, our zero alcohol formula ensures a gentle yet effective cleaning experience.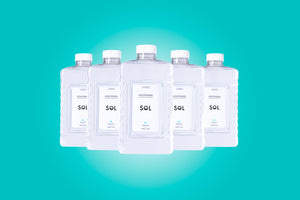 Effortless Refills
Our spill-proof mouthwash bottles and hassle-free refill process make it quick and mess-free, saving you time and ensuring a seamless experience. Confidently refill your dispenser without any mess or wastage and enjoy effortless refills that maintain the highest standards of quality and reliability.
Say goodbye to the hassle of reordering. Subscribe to our monthly refill, and we'll ensure a continuous supply of mouthwash and cups delivered right to your doorstep.